18/01/2018
Our next Quiz to raise money for Bracknell Twinning Association will be on Friday February 9th 2018, 7.30 p.m. at Braybrooke Community Hall, Makepiece Road, Bracknell. RG12 2HF. Tickets are £7.00 each – includes a baked potato with tuna, cheese, beans fillings. Please bring your own drinks and glasses.
This is now a popular annual event and as ever, is likely to be a very enjoyable evening.
We make new friends, try hard not to be too competitive and would be delighted to see new faces. If you would like to find out more about our long standing friendships with citizens of our twin city Leverkusen and of our planned 2018 visit there, then please join us on Friday February 9th.
If you are coming, please let Mary Temperton know (telephone 01344 426191, or email temperton.mary@gmail.com ).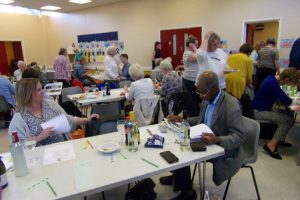 12/10/2017
A new era in Bracknell's history began on 7th September 2017 with the official opening of the new Lexicon Centre. Visitors from Bracknell's twin city, Leverkusen, in North Rhein – Westphalia will recognise some of the images in our photo-shoot from their visit in June this year.
Children from primary schools throughout Bracknell Forest took part in the opening celebrations.
Regular Bracknell visitors to Leverkusen will recall the renewal process and eventual opening of their € 207.4 Million "Rathaus-Galerie" complex in 2010.
More than 150 local children, from primary and junior schools across the borough counted down to Bracknell's historic event, which was marked with a fanfare of green, gold and silver streamers and leaf shaped confetti, cascading across the new town centre's walkways and squares – writes Mary Temperton.
Our June visitors from Leverkusen will recognise some of the sites.
The whole theme is 'Green Bracknell' and the designs in brass have been commissioned from a Bracknell artist and are set into the pavement.
There is a good variety of shops from those that sell expensive goods to those providing families with lower economies.
The shopping area is superb- open at each end, like an old fashioned street but without cars.
Click here to view all the images…