Bracknell Twinning Members Free to Visit Twin Town Leverkusen Again!
August 2022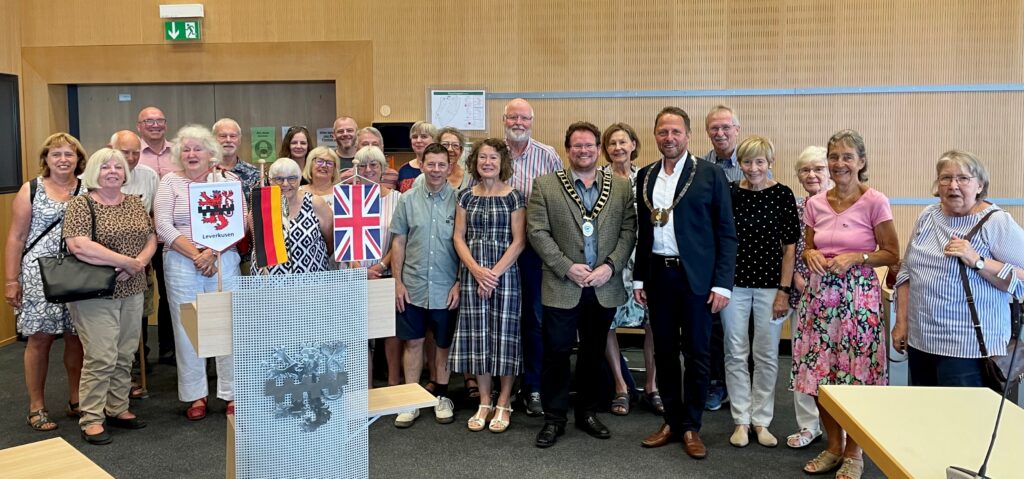 Members of Bracknell Twinning, accompanied by Bracknell Town Mayor, Dai Roberts, have just returned from a long, action-packed weekend (12-15 August 2022) with German hosts and friends in Twin Town Leverkusen, Germany, after four years' 'No Go' – primarily due to Covid-19 restrictions in both countries.
In June 2019, members of 'Freundeskreis Bracknell-Leverkusen' visited Bracknell, staying with local hosts, for a very exciting programme of social gatherings and sight-seeing – including the Houses of Parliament, a boat trip on the River Thames, Blenheim Palace and Hampton Court.
Unfortunately, a return visit to Leverkusen by Bracknell Twinning in June 2020, which was to include a stay in the Mosel area and a trip on the River Mosel, had to be cancelled due to the pandemic.
Thanks to Bracknell Twinning Chair, Mary Temperton, and her counterpart in Leverkusen, this year's return visit to Leverkusen was able to take place and included a visit to the chemical Bayer company Colonies Museum in Leverkusen town centre; a visit to the Waldfrieden Sculpture Park set in Wuppertal woodland and opened in 2008 by British sculptor, Tony Cragg; a ride on the unique 'hanging' monorail along the River Wupper; and an evening at the Annual Leverkusen Beer Festival on the banks of the River Wupper to sample local, national and international beers and culinary dishes, including the traditional German Bratwurst!
An inter-town friendship and partnership visit would not be complete without a more formal Reception at the Leverkusen City Hall, attended by both Bracknell Town Mayor and Leverkusen Lord Mayor, where guests from Bracknell were warmly welcomed. Lord Mayor Uwe Richrath acknowledged that next year Bracknell and Leverkusen will be celebrating 50 years of twinning, and he vowed to attend the Leverkusen return visit to Bracknell then.
'It was wonderful and reassuring to see 'old friends' again and make new friends in Leverkusen, a relatively new town, with which Bracknell shares much in common. Even the Lord Mayor of Leverkusen, Uwe Richrath, seems like an 'old friend', and it was a pleasure and honour to meet him again after four years' absence!' (Maggie Stock, member of the Bracknell Twinning Committee).
Freundeskreis Bracknell Leverkusen Feature
Follow the Bracknell-Leverkusen Twinning website : LATEST
---
Latest from Leverkusen – Link to Leverkusen site in German
Queen Elizabeth II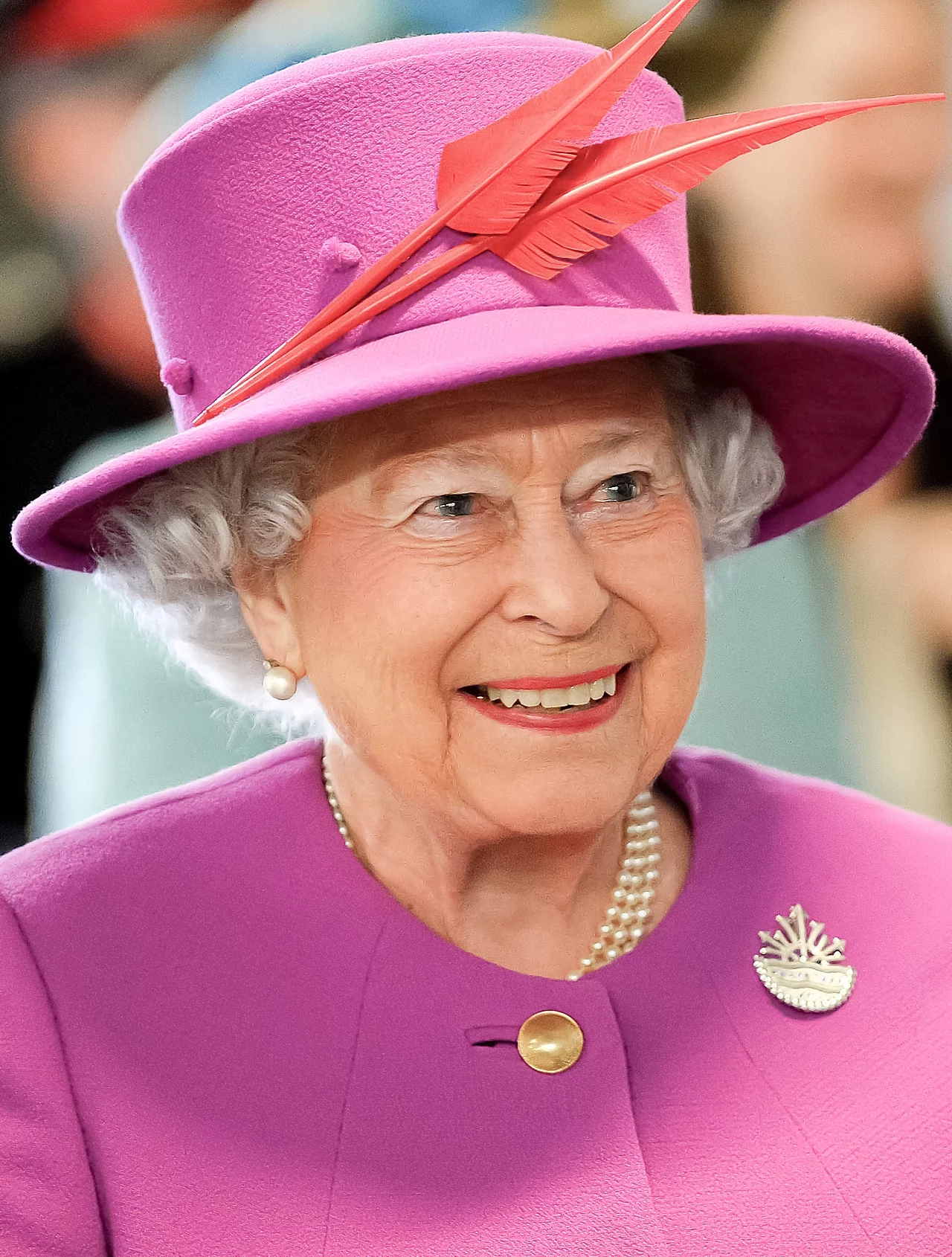 © Image contains public sector information licensed under the Open Government Licence v3.0.
The Friends of Bracknell-Leverkusen received the news of Queen Elizabeth II's death with dismay.
We share the deep sadness of this loss with our friends in our twin town and across the UK.
The Queen was also loved by many people in Germany and highly respected.
Many remember her visits to nearby Düsseldorf, where she was enthusiastically received.
She was always a guarantor of stability and strove to contribute to unity among nations and in her own country.
We miss her and wish the new King Charles III the best of luck and prosperity in his new position.
God Save the King
---
Zoom Meeting: First Steps towards old Freedoms
Second Videoconference Meeting: First Steps towards old Freedoms
writes Norbert Maibücher, Leverkusen
In mid May, 2021, Mary Temperton, Chair of the Bracknell Twinning Association and host of the ZOOM-meetings with Freundeskreis (Circle of Friends) Leverkusen-Bracknell, was happy to count 17 faces on the little monitors of the Zoom screen for the second round of our digital get-togethers.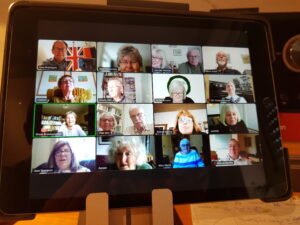 Of course the first item on the agenda was an invitation to everybody to talk about how they had experienced the previous weeks since the first virtual meeting. The participants came up with stories of how they had enjoyed going shopping in the mall, how they had had a day out in London with a visit to the Tate Gallery, or how their voluntary work at the kindergarten or the food bank had been possible again and how grateful the young and the old had been for their being there.
What was quite interesting for the German listeners was how the social distancing rules were enforced in England. Whereas here the municipal public order office or the police, i.e. legal authorities, understaffed for such duties, are in charge in public spaces, and security personnel watches the entrance and exit of the shops that are open, there are plenty of marshals around in the shopping areas and precincts in Britain who remind people of the rules and regulations and see to it that people abide by them. They cannot fine people, but they can call police for help. Sounds sensible.
And then we Germans learnt – again with jealousy – that all the vaccinations that have taken place in Britain have been digitally recorded and citizens can prove their Covid status in a simple way on their NHS app. In Germany the development of the digitalisation of health data is way behind, for one thing because of – maybe exaggerated – worries about data protection and competing business interests, but also due to failures in the health administration in our federal system. (more…)
Bracknell Leverkusen Friends Meet Online
News from Bracknell March 26, 2021
On Wednesday we had our first Zoom meeting between friends in Bracknell and our twin city of Leverkusen. It was lovely to see everyone again and to catch up on our news.
This has been a hard year for us all.
We had to cancel our much-anticipated trip to Germany to meet up with everyone again, last June. We now hope this will take place in June 2022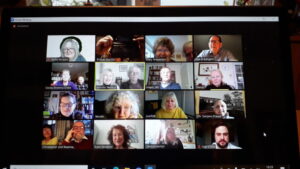 We, in the UK, are just coming out of another Covid-19 lockdown. We must work at home if possible, only travel locally, not mix with any other households indoors or in gardens. The children are still in school but secondary students must give themselves a lateral flow test twice a week to see if they are Covid positive. These test kits are provided by the schools.
Parents and other family members are expected to test twice a week too with tests from local testing centres.
We must wear masks on public transport and in the few essential shops that are open. We do not have to wear them just walking about, but many do.
Our lovely new Bracknell shopping centre- open just two years ago- is deserted. Some of the large stores will never reopen as their companies have folded.
Return to 'normal' is to be a slow process, with shops opening in the middle of April. Pubs will only be able to serve in gardens and then only two families of up to six people in one group.
Most people over 50 have now been vaccinated with their first vaccination.
It was really good to meet by zoom and we will do so again in May.
Mary Temperton
Chair of Bracknell Twinning Association.
A Message of Support from Leverkusen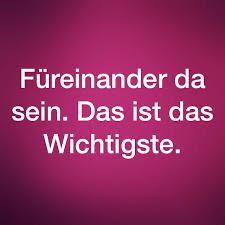 Michael Gutbier, a friend of Bracknell for many years, has sent us the following from Leverkusen:
Being there for each other.




That's the most important.
20/03/2020 – Dear friends, a difficult time lies ahead. Take care of yourselves and each other. Stay well! Keep physical distance, but be there for each other. Communicate much and in many ways, creating a different but so important form of closeness! I wish you and all dear ones all the best from my heart! Together we will get through this difficult time!
46th Twinning Exchange Visit a Great Success
Another wonderful Bracknell/Leverkusen exchange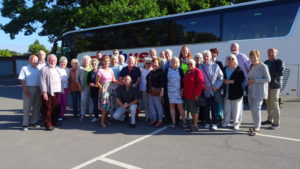 The 46th exchange visit of residents has just ended. 17 guests from Leverkusen arrived in Bracknell on June 27, 2019 and were welcomed by their host families.
On Friday June 28, we did a tour of the new Town Centre of Bracknell, ending with cake and refreshments at the Bracknell Town Council Chambers. Here the Mayor of Bracknell Town Council, Councillor Isabel Mattick, welcomed the guests. We then visited South Hill Park Arts Centre and after lunch had a tour of the facilities offered here. Our visitors were suitably impressed by the range of activities seen. We then visited the Jealott's Hill Land Share and David Putt explained what happens here, all the groups involved and the philosophy behind the project. After walking around all the grounds the strawberries, cakes and tea were very much appreciated by all.
In the evening we all met at the New Great Hollands Pavilion for an International Quiz and supper of baked potatoes and fillings.
On Saturday June 29 we visited Blenheim Palace. All admired the palace and the grounds. We then did a detour to visit Oxford. Some went into the Ashmolean Museum; others did a short walk around the city. This was the hottest day this year!
The evening was spent with the host families.
Sunday June 30 – Hampton Court Palace and grounds and another beautifully sunny day.
In the evening all guests and hosts met at the Koh-i-Noor restaurant in Bracknell for a buffet meal.
On Monday July 1, we visited London and had a guided tour of the Houses of Parliament. With translating help from many of the visitors and hosts, all learned a great deal about the parliamentary system as well as the history of the building. The three hour boat trip on the Thames, past Greenwich to the Thames Barrier and back was a huge success. The weather was perfect and the detailed commentary easily understood by all.

This final evening was shared with hosts. (more…)
Leverkusen Friends of Bracknell Practice Language Skills Together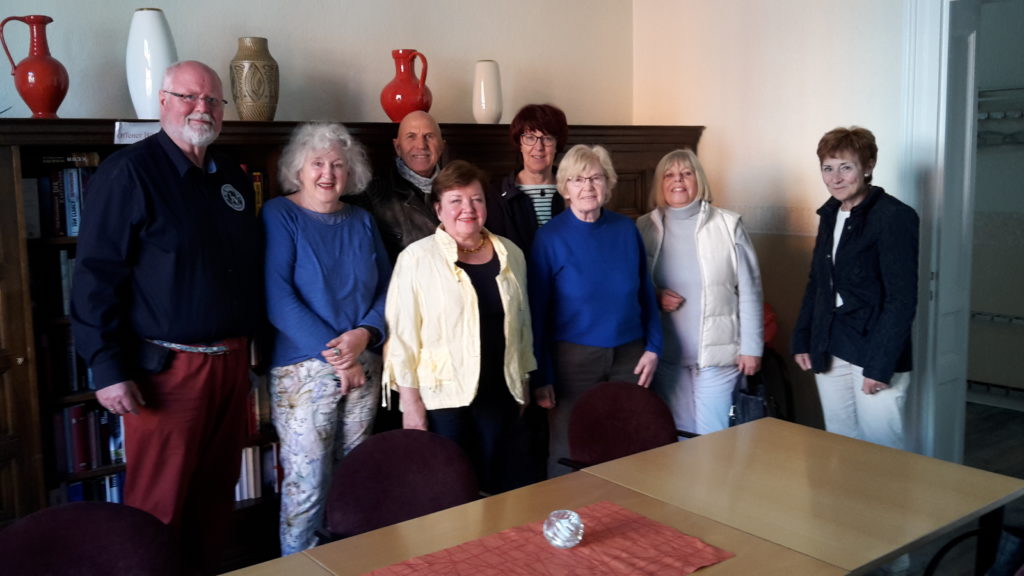 On Monday, May 13, 2019, about 20 members of the Freundeskreis Bracknell-Leverkusen met for their monthly "table talk", the English-speaking chat round, during which the Bracknell friends practice their English language skills together.
The theme this time was the upcoming election to the European Parliament. Of course, everyone present was a firm supporter of the European idea and spoke about how they benefited from the freedoms within the European Union on their travels.
February 2019 Quiz Night
There will be a Quiz Night in support of Twinning on Friday 22 February 2019 – 7.30 p.m. at Braybrooke Hall, Makepiece Road, Bracknell RG12 2HF. Food will be provided – baked potato with tuna, cheese, beans and chilli (or any combination). Please bring your own drinks and glass. The cost will be £7.00 each.
Please encourage your friends to take part, and please phone Mary Temperton (01344 426191) or email (see below).
Clive Temperton
Secretary, Bracknell Twinning Association.
45 Year Friendship, Campfire and Cake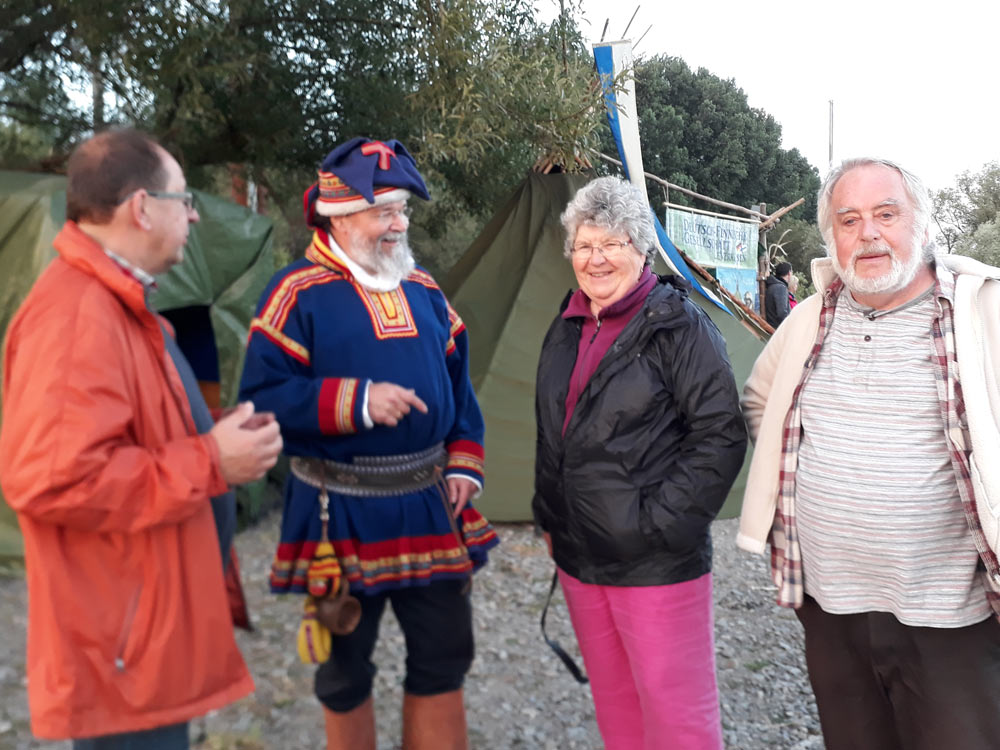 2018 : Residents of Bracknell have recently returned from a very successful six day visit to their German twin Town of Leverkusen in North Rhine-Westphalia. For the first time ever, the Bracknell Twinning Association flew to Germany and then hired a German coach for trips out. On the Friday we visited Bonn and saw the buildings of the former government headquarters. We had a very German lunch in a very German pub followed by a visit to the Museum of Contemporary History, Bonn. www.hdg.de
We then visited Konrad Adenauer's house : German statesman (1876-1967), Federal Chancellor of Germany, the first chancellor after the second world war. We also visited a wine cellar and tasted their wine, followed by a delicious meal.
That evening, the mid summer's day, was celebrated with the Finnish friends of Leverkusen with a camp-fire besides the river Rhine. The Mayor of Bracknell Town Council, Sandra Ingham, joined us and met Mayor Marewski of the city of Oulu, dressed in his Finnish costume. The Lord Mayor of Leverkusen, Oberburgermeister Uwe Richrath presented Sandra with a delightful set of dishes decorated with pictures of old Opladen.
Saturday we visited sites in Leverkusen, including the Water Tower, a new destination for us. We also visited the Japanese gardens and had Lunch in the restaurant in the gardens next to the Rhine.
Sunday we visited Brühl castle – very, very elaborate and designed to emphasise the wealth of the owner. The gardens were very like Versailles. The group had lunch together followed by free-time to walk in the grounds, visit the Hunting Lodge, visit the town or visit the Max Ernst Art Museum.
Monday we visited the beautiful city of Cologne which included a guided tour of the cathedral and around the historic city centre. In the evening we had a party all together, celebrating the 45th year of our twinning partnership. A specially decorated cake had been prepared to mark the occasion.
Tuesday, we visited a castle in the north of Düsseldorf and had lunch at a restaurant next to the Rhine before flying home.
During the trip, the Mayor of Bracknell made contacts with the Leverkusen Youth Theatre group in order to facilitate an exchange with a similar group at South Hill Park Arts Centre. We also made contact with teachers organising an exchange visit with students from Easthampstead Park school and a teacher wishing to arrange work experience opportunities for his students with Bracknell companies. We are also seeking a youth football team to exchange a visit with a similar team in Bracknell.
Everyone enjoyed the trip immensely, made new friends and were welcomed by old ones.
Next year (2019), our German friends will come to Bracknell and again will stay with host families. It is this aspect that makes Bracknell – Leverkusen twinning so special.
Our thanks to the Twinning Committee (Freundeskreis Bracknell Leverkusen) de.bracklev.eu for organising such a superb trip and we look forward to welcoming you to Bracknell next year.
Visit our Leverkusen sister site to view their 2018 gallery…
Twinning Quiz Night
Our next Quiz to raise money for Bracknell Twinning Association will be on Friday February 9th 2018, 7.30 p.m. at Braybrooke Community Hall, Makepiece Road, Bracknell. RG12 2HF. Tickets are £7.00 each – includes a baked potato with tuna, cheese, beans fillings. Please bring your own drinks and glasses.
This is now a popular annual event and as ever, is likely to be a very enjoyable evening.
We make new friends, try hard not to be too competitive and would be delighted to see new faces. If you would like to find out more about our long standing friendships with citizens of our twin city Leverkusen and of our planned 2018 visit there, then please join us on Friday February 9th.
If you are coming, please let Mary Temperton know (telephone 01344 426191, or email temperton.mary@gmail.com ).