14/06/2021
Second Videoconference Meeting: First Steps towards old Freedoms
writes Norbert Maibücher, Leverkusen
In mid May, 2021, Mary Temperton, Chair of the Bracknell Twinning Association and host of the ZOOM-meetings with Freundeskreis (Circle of Friends) Leverkusen-Bracknell, was happy to count 17 faces on the little monitors of the Zoom screen for the second round of our digital get-togethers.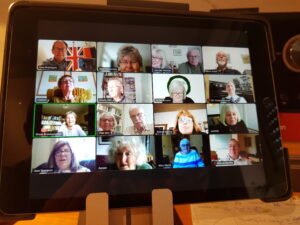 Of course the first item on the agenda was an invitation to everybody to talk about how they had experienced the previous weeks since the first virtual meeting. The participants came up with stories of how they had enjoyed going shopping in the mall, how they had had a day out in London with a visit to the Tate Gallery, or how their voluntary work at the kindergarten or the food bank had been possible again and how grateful the young and the old had been for their being there.
What was quite interesting for the German listeners was how the social distancing rules were enforced in England. Whereas here the municipal public order office or the police, i.e. legal authorities, understaffed for such duties, are in charge in public spaces, and security personnel watches the entrance and exit of the shops that are open, there are plenty of marshals around in the shopping areas and precincts in Britain who remind people of the rules and regulations and see to it that people abide by them. They cannot fine people, but they can call police for help. Sounds sensible.
And then we Germans learnt – again with jealousy – that all the vaccinations that have taken place in Britain have been digitally recorded and citizens can prove their Covid status in a simple way on their NHS app. In Germany the development of the digitalisation of health data is way behind, for one thing because of – maybe exaggerated – worries about data protection and competing business interests, but also due to failures in the health administration in our federal system. (more…)
01/04/2021
News from Bracknell March 26, 2021
On Wednesday we had our first Zoom meeting between friends in Bracknell and our twin city of Leverkusen. It was lovely to see everyone again and to catch up on our news.
This has been a hard year for us all.
We had to cancel our much-anticipated trip to Germany to meet up with everyone again, last June. We now hope this will take place in June 2022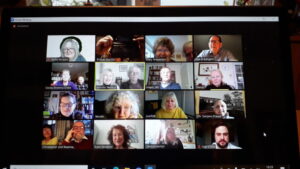 We, in the UK, are just coming out of another Covid-19 lockdown. We must work at home if possible, only travel locally, not mix with any other households indoors or in gardens. The children are still in school but secondary students must give themselves a lateral flow test twice a week to see if they are Covid positive. These test kits are provided by the schools.
Parents and other family members are expected to test twice a week too with tests from local testing centres.
We must wear masks on public transport and in the few essential shops that are open. We do not have to wear them just walking about, but many do.
Our lovely new Bracknell shopping centre- open just two years ago- is deserted. Some of the large stores will never reopen as their companies have folded.
Return to 'normal' is to be a slow process, with shops opening in the middle of April. Pubs will only be able to serve in gardens and then only two families of up to six people in one group.
Most people over 50 have now been vaccinated with their first vaccination.
It was really good to meet by zoom and we will do so again in May.
Mary Temperton
Chair of Bracknell Twinning Association.