25/01/2019
There will be a Quiz Night in support of Twinning on Friday 22 February 2019 – 7.30 p.m. at Braybrooke Hall, Makepiece Road, Bracknell RG12 2HF. Food will be provided – baked potato with tuna, cheese, beans and chilli (or any combination). Please bring your own drinks and glass. The cost will be £7.00 each.
Please encourage your friends to take part, and please phone Mary Temperton (01344 426191) or email (see below).
Clive Temperton
Secretary, Bracknell Twinning Association.
14/07/2018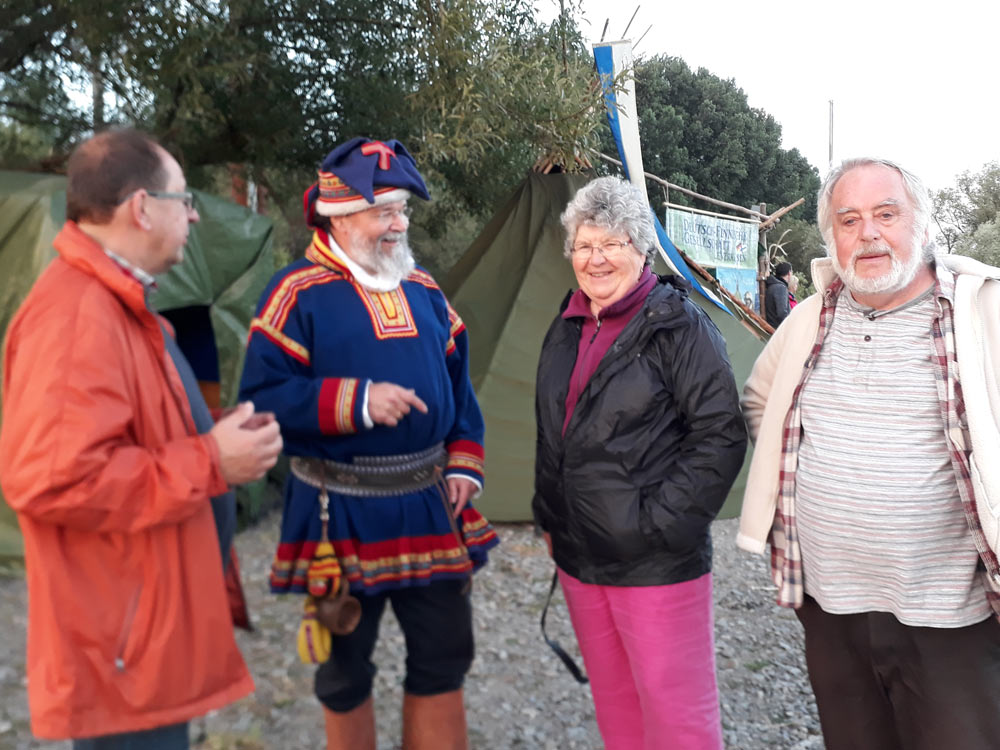 2018 : Residents of Bracknell have recently returned from a very successful six day visit to their German twin Town of Leverkusen in North Rhine-Westphalia. For the first time ever, the Bracknell Twinning Association flew to Germany and then hired a German coach for trips out. On the Friday we visited Bonn and saw the buildings of the former government headquarters. We had a very German lunch in a very German pub followed by a visit to the Museum of Contemporary History, Bonn. www.hdg.de
We then visited Konrad Adenauer's house : German statesman (1876-1967), Federal Chancellor of Germany, the first chancellor after the second world war. We also visited a wine cellar and tasted their wine, followed by a delicious meal.
That evening, the mid summer's day, was celebrated with the Finnish friends of Leverkusen with a camp-fire besides the river Rhine. The Mayor of Bracknell Town Council, Sandra Ingham, joined us and met Mayor Marewski of the city of Oulu, dressed in his Finnish costume. The Lord Mayor of Leverkusen, Oberburgermeister Uwe Richrath presented Sandra with a delightful set of dishes decorated with pictures of old Opladen.
Saturday we visited sites in Leverkusen, including the Water Tower, a new destination for us. We also visited the Japanese gardens and had Lunch in the restaurant in the gardens next to the Rhine.
Sunday we visited Brühl castle – very, very elaborate and designed to emphasise the wealth of the owner. The gardens were very like Versailles. The group had lunch together followed by free-time to walk in the grounds, visit the Hunting Lodge, visit the town or visit the Max Ernst Art Museum.
Monday we visited the beautiful city of Cologne which included a guided tour of the cathedral and around the historic city centre. In the evening we had a party all together, celebrating the 45th year of our twinning partnership. A specially decorated cake had been prepared to mark the occasion.
Tuesday, we visited a castle in the north of Düsseldorf and had lunch at a restaurant next to the Rhine before flying home.
During the trip, the Mayor of Bracknell made contacts with the Leverkusen Youth Theatre group in order to facilitate an exchange with a similar group at South Hill Park Arts Centre. We also made contact with teachers organising an exchange visit with students from Easthampstead Park school and a teacher wishing to arrange work experience opportunities for his students with Bracknell companies. We are also seeking a youth football team to exchange a visit with a similar team in Bracknell.
Everyone enjoyed the trip immensely, made new friends and were welcomed by old ones.
Next year (2019), our German friends will come to Bracknell and again will stay with host families. It is this aspect that makes Bracknell – Leverkusen twinning so special.
Our thanks to the Twinning Committee (Freundeskreis Bracknell Leverkusen) de.bracklev.eu for organising such a superb trip and we look forward to welcoming you to Bracknell next year.
Visit our Leverkusen sister site to view their 2018 gallery…