Leverkusen Tour Programme for Bracknell Visitors 2018
Programme for the Bracknell Visitors: June 21st to June 26th 2018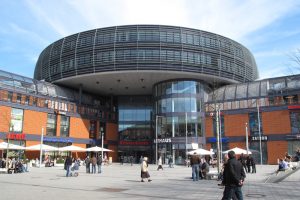 Thursday 21st
About 16.30 (depending on traffic) arrival of the guests and meeting with the hosts in the community centre (Gemeindehaus) Lehner Mühle 8 in Lützenkirchen, greeting from the chair of Bracknell-Leverkusen Twinning, Renate Buchwald and the distribution of informational material for their stay. First talks over refreshments. After that travel to the hosts and supper with the families.
Friday 22nd
09.30: Meet at the Gemeindehaus, Lützenkirchen. Travel to Bonn – look round the town with shopping opportunities from 10.30.
13.30: meet at the bus
14.00: Haus der Geschichte (house of history) with an English tour (90 mins). Then at about 16.30 a visit to the Adenauer House in Rhöndorf with guided tour, followed by a wine tasting and supper in Rhöndorf. Return in the evening at about 20.00 to the Gemeindehaus in Lützenkirchen.
Saturday 23rd
09.30: Meet at the Gemeindehaus. Drive around Leverkusen.
10.00: Visit the Water Tower, the Bayer buildings, Japanese Gardens and Neulandpark.
13.00: Lunch/buffet at the Wacht am Rhein (hosts pay for themselves).
After the meal a walk together to the Platz der Partnerschaften (Twinning Square); then on with the bus to the stadium/Hitdorf depending on time.
16.00: Return to Lützenkirchen
In the evening Johannisfeuer (midsummer celebration?) at the Wupper Bridge with the German-Finnish Association. Bring a torch! The English guests come with their hosts to the Wupper Bridge. Pay for your own food/drinks.
Sunday 24th
09.30: Meet at the Gemeindehaus. Travel to Brühl (castle with guided tour at about 10.30) plus perhaps Falconry, Max-Ernst-Museum.
Lunch at the Brauhaus – pay for your own
Leave Brühl about 17.00. Return around 18.00. Pick up by hosts. Supper and evening in the families.
Monday 25th
09.30: Meet at the Gemeindehaus. Travel to Cologne.
10.30: English guided tour through the old town. Lunch in the Brauhaus – pay for your own.
Return around 17.30 at the Gemeindehaus and pick up by the hosts. A short break in the families
19.00: Supper together with the hosts at Mattea next to the Forum in Wiesdorf. The hosts will be the guests of Bracknell Twinning. (excluding drinks)
Tuesday 26th
10.00: Departure of the guests from the Gemeindezentrum.
On the way to Düsseldorf Airport a little sightseeing tour through Kaiserswerth! Light meal at the Alten Rheinfähre.
The guests' flight is at 15.50.